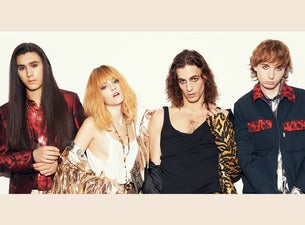 Events
Italy
There are no upcoming events in Italy
Don't worry, there are other events available below
International Events
5 Events
3/6/23

Berlin, Germany

Mercedes-Benz Arena

Måneskin | Box seat in the Ticketmaster Suite

5/2/23

København S, Denmark

Royal Arena

Måneskin

5/14/23

Praha 9, Czech Republic

O2 arena

Maneskin

5/14/23

Praha 9, Czech Republic

Parking Garage - O2 arena

Parking - Maneskin

2/12/22

Esch-sur-Alzette, Luxembourg

Rockhal Main Hall

Måneskin
About
Måneskin, the pop rock band of the moment, consists of Damiano, Victoria, Thomas ed Ethan.

The band, whose name means "moonlight" in Danish, achieved fame in 2017 with the participation in the talent show X Factor, where they ranked second guided by the coach Manuel Agnelli from Afterhours. Thanks to the talent show, Måneskin signed a record deal with the major Sony Music and put out their first EP Chosen, including the homonymous hit certified double Platinum by FIMI.

Il Ballo della Vita, Måneskin's first album, was released in 2018 preceded by the song Morirò da Re and including the hits Torna a Casa, L'Altra Dimensione and Fear for Nobody.

Måneskin came back from their hiatus at the end of 2020 with the song Vent'anni. In 2021 the band won Sanremo Music Festival with the hit Zitti e Buoni, included in the album Teatro D'ira – Vol.1.

Thanks to their win at Sanremo Music Festival, the band had the opportunity to represent Italy at the Eurovision Song Contest. After 57 years, Måneskin led Italy to victory.

Måneskin's win at Eurovision Song Contest turned the band into a worldwide phenomenon. Beggin', their cover of the Four Seasons' song, reached the top of the global chart of Spotify and I Wanna Be Your Slave, included in the second album of the band, has been certified silver, golden and platinum record in several countries and ranked first in their viral charts on Spotify. In August 2021 Måneskin announced via social media a new version of I Wanna Be Your Slave featuring the godfather of punk Iggy Pop.

You can't miss the new revelation of Italian music!