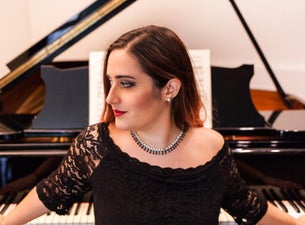 Classical
Leonora Armellini Tickets
About
Come and discover a singular composer, Déodat de Séverac (1872-1921), with the pianist Leonora Armellini. Born in Languedoc in south-western France, trained at the Toulouse Conservatoire and the Schola Cantorum in Paris, he contributed to the renewal of French music (and the avoidance of Wagnerian influence) by drawing on the traditional melodies of his native region.

To highlight his position in the ebullient period of the Belle Époque, this programme also features pieces by Vincent d'Indy (his teacher at the Schola Cantorum) and Claude Debussy (with whom he has features in common). It ends with the Champagne-Valse by Isaac Albéniz, who shared Déodat de Séverac's enthusiasm for the music of the Catalan region that straddles the border of France and Spain.

Leonora Armellini trained at the Accademia di S. Cecilia in Rome and the Accademia Pianistica Incontri col Maestro in Imola. She won several prizes, including XXII Premio Venezia, Premio Janina Nawrocka (2010), Quinto Premio (2021) of the F. Chopin International Piano Competition in Warsaw, and the Premio Galileo 2000 Pentagramma d'oro (2013). He plays in festivals and theatres in Italy and abroad, such as the Teatro La Fenice, Carnegie Hall in New York, Salle Cortot in Paris, with orchestras such as Warsaw Philharmonic, Orchestra di Padova e del Veneto, Orchestra Filarmonica di Torino, Orchestra dell'Arena di Verona and Ukrainian National Orchestra. He teaches piano at the Conservatorio 'A. Buzzolla' in Adria.


Venez découvrir, par l'intermédiaire du piano de Leonora Armellini, le singulier Déodat de Séverac (1872-1921). Venu du Languedoc, formé au conservatoire de Toulouse puis à la Schola Cantorum de Paris, ce compositeur participe au renouvellement de la musique française (et à l'évitement de l'influence de Wagner) en prenant appui sur les airs populaires du sud-ouest de son pays. Pour mieux le situer dans le paysage bouillonnant de la Belle Époque, des pages de Vincent d'Indy (son maître) et de Claude Debussy (son cousin d'inspiration) seront également mises à l'honneur. Et la Champagne-Valse d'Isaac Albéniz finira de démontrer les liens artistiques féconds qui se nouent de part et d'autre des Pyrénées au tournant du siècle.