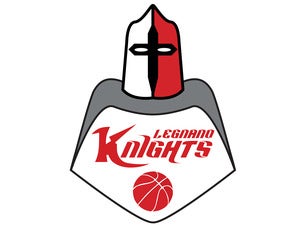 Basketball
Legnano Basket Knights Tickets
Events
We're sorry, but we couldn't find any events
About
Legnano Basket Knights is a basketball team founded in 1966 that currently plays in the B series of national basketball league.

Legnano Basket Knights, played until the 2018/2019 season in the A2 series and this year's goal is to achieve great results and make the leap in category. A renewed society led by President Marco Tajana that aims to make its fans dream.

The home games venue of the red and white team is the PalaBorsani of Castellanza, while the name of the club refers to the symbol of the knight and to the famous battle of Legnano, a medieval clash in 1176 between the troops of the Lombard League and the imperial army of Federico Barbarossa.


For the 2021/2022 season, Legnano Basket Knights includes the following basketball players:.

• Leardini Giacomo

• Ferrario Alessandro

• Darù Mattia

• Cepic Janko

• Casini Juan Marcos

• Roveda Edoardo

• Sebastiano Bianchi

• Nespoli Mattia

• Tommaso Marino

• Maioli Matteo

• Solaroli Manuele

• Ferrario Leonardo

• Bassani Matteo

• Pisoni Paolo

• Terenzi Diego


Don't miss the home games of Legnano Basket Knights for the 2021/2022 season!