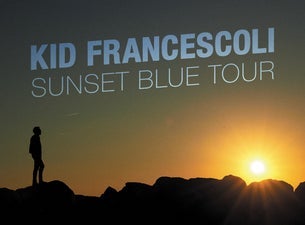 Rock/Pop
Kid Francescoli Tickets
Events
3/2/24

Bologna

Locomotiv Club

Kid Francescoli
International Events
2 Events
2/21/24

København V, Denmark

Pumpehuset

Kid Francescoli

2/22/24

OSLO, Norway

Parkteatret Scene, Oslo

Kid Francescoli
About
Kid Francescoli is an indie-pop artist, musician and producer from Marseille. Kid Francescoli is a musical project born as a group and then became solo.

A sound characterized by hypnotic elements, keyboards, synths and whispered voices. Kid Francescoli's success began in 2013 with the release of the album With Julia and the track Blow Up.

His 2017 second album Play Me Again, featuring the single Moon and the following international tour, confirmed the artist in the international music scene. The track Moon went viral on TikTok.

For the 2020 album Lovers, Kid Francescoli wanted to collaborate with several singers from different backgrounds to enrich the sounds and atmospheres of his music. A mixture of warmer and Latin sounds, while maintaining the element of melancholy dear to him.

Kid Francescoli's songs have often been used for commercials for major brands including Lanvin, Lacoste4, Chanel, Lancome and many others.

Kid Francescoli's latest track is Azuro, released at the beginning of 2022 and which established him as a revelation artist of French indie-pop.

Do not miss live the eclectic artist from Marseille!