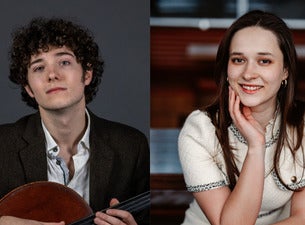 Classical
Johannes Gray, Anastasiya Magamedova Tickets
About
The press in the nineteenth-century was unkind to women composers. When they were not prejudged as incompetent, their works were assessed according to the criteria of feminine propriety: they were expected to compose pieces that were pretty, sweet and graceful. When some of them ventured to show more strength and vigour in their compositions, they met with incomprehension and indignation in equal measure. Yet, if one were to listen to the cello pieces presented in this concert without knowing the gender of the composers, who would imagine that they were written by women rather than men? Making full use of the instrument's expressive powers, Rita Strohl, Henriette Renié and Marie Jaëll captivate us, regardless of the standards imposed upon them.

After making his debut at only fourteen years old with the Chicago Symphony Orchestra, cellist Johannes Gray studied in Chicago, at the CNSMD in Paris and at the Barenboim-Said Akademie in Berlin. Winner of several national and international competitions, he was appointed Révélation Classique of the Adami in 2022. He has performed at the Philharmonie in Berlin, the Ravinia Festival and the Verbier Festival, the Lincoln Center, SuperCello in Beijing and the Cello Biënnale in Amsterdam. Winner and finalist of several international competitions, Anastasiya Magamedova began studying piano in Dushanbe, Tajikistan, before continuing her education at the Juilliard School in New York. She has performed at Carnegie Hall, Weill Concert Hall and Alice Tully Hall with orchestras such as the Alicante Philharmonic, the Utah Symphony Orchestra, the American West Symphony and the Bratislava Chamber Orchestra.


La presse du XIXe siècle est peu tendre avec les compositrices. Quand on ne préjuge pas de leur incompétence, on évalue leurs œuvres à l'aide des critères de la bienséance féminine : elles doivent créer des pièces jolies, pleines de douceur ou de grâce. Lorsque certaines d'entre elles s'égarent dans le domaine de la vigueur ou de l'excès, l'incompréhension va de pair avec l'indignation. Pourtant, si l'on faisait écouter les pièces pour violoncelle programmées à ce concert sans signaler le sexe de leurs auteurs, bien malin qui saurait en identifier la féminité d'écriture. Usant de toute la force expressive de l'instrument, Rita Strohl, Henriette Renié et Marie Jaëll nous transportent sans se soucier de correspondre aux normes qu'on leur impose.

Lauréate et finaliste de concours internationaux, Anastasiya Magamedova commence le piano à Douchanbé (Tadjikistan) puis poursuit ses études à l'école Juilliard de New York. Elle joue au Carnegie Hall, au Weill Concert Hall, et au Alice Tully Hall, avec des orchestres tels que l'Orchestre philharmonique d'Alicante, l'Orchestre symphonique de l'Utah, the American West Symphony et l'Orchestre de chambre de Wratislava. Suite à son début avec le Chicago Symphony Orchestra à quatorze ans, le violoncelliste Johannes Gray étudie à Chicago, au CNSMDP et à l'Académie Barenboim-Said à Berlin. Il est lauréat de concours nationaux et internationaux et est nommé Révélation Classique de l'Adami (2022). Il se produit notamment à la Philharmonie de Berlin, aux festivals Ravinia et Verbier, au Lincoln Center, SuperCello à Beijing, et au Cello Biennale d'Amsterdam.