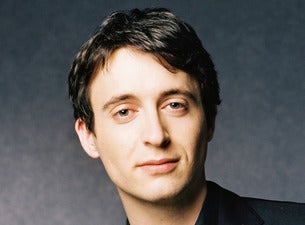 Classical
Jean-Frédéric Neuburger Tickets
Events
Sorry... there are currently no upcoming events.
About
Telling stories by music means was a challenge that was taken up at the beginning of nineteenth century, anxious to demonstrate that music can be a universal language, capable of conveying a message without the need for words or images. In the wake of Franz Liszt's symphonic poems, the young organist Juliette Dillon (1823-1854) set about "translating for the piano" E. T. A. Hoffmann's Fantastic Tales. Thirty years before Offenbach's Tales of Hoffmann, she brought all her talents as an improviser into play to relate ten of the German poet's best-known tales. We can only regret the early death of this talented musician and wonder why her name has disappeared from the music dictionaries.

After studying at the CNSMD in Paris, Jean-Frédéric Neuburger has been invited by orchestras such as New-York Philharmonic, San Francisco Symphony, Philadelphia Orchestra, London Philharmonic, Orchestre de Paris, Philharmonique of Radio France, Bamberger Symphoniker and NHK Symphony Orchestra, with directors such as Lorin Maazel, Michael Tilson Thomas, Jonathan Nott, Osmo Vänskä, Ingo Metzmacher, Pascal Rophé and Pierre Boulez. His extensive repertoire ranges from Bach to contemporary music. He is also a professor at the Paris Conservatory, where he teaches accompaniment. His recordings have been praised by international critics (Choc du Monde de la Musique and Choc de Classica).


Raconter au travers des notes: voilà un défi que se fixe le XIXe siècle naissant, soucieux de démontrer que la musique peut être un langage universel, capable de se passer des images et des mots pour transmettre un message. Dans la lignée des poèmes symphoniques de Franz Liszt, la jeune organiste Juliette Dillon (1823-1854) s'attelle ainsi à « traduire pour le piano » les Contes fantastiques d'E. T. A. Hoffmann. Trente ans avant les Contes d'Hoffmann d'Offenbach, l'artiste déploie tous ses talents d'improvisatrice pour retracer dix nouvelles, choisies parmi les plus connues du poète allemand. De quoi regretter le décès précoce de cette musicienne talentueuse et s'interroger sur sa disparition des dictionnaires musicologiques.

Après être formé au CNSMDP, Jean-Frédéric Neuburger est invité par des orchestres telles que le New-York Philharmonic, le San Francisco Symphony, la Philadelphia Orchestra, le London Philharmonic, l'Orchestre de Paris, le Philharmonique de Radio France, le Bamberger Symphoniker et le NHK Symphony Orchestra sous la direction de chefs d'orchestre comme Lorin Maazel, Michael Tilson Thomas, Jonathan Nott, Osmo Vanska, Ingo Metzmacher, Pascal Rophé et Pierre Boulez. Son répertoire particulièrement varié s'étend de Bach à la création contemporaine. Jean-Frédéric Neuburger est également professeur au Conservatoire de Paris où il enseigne l'accompagnement. Ses enregistrements discographiques ont été salués par la critique internationale (Choc du Monde de la Musique et Choc de Classica).