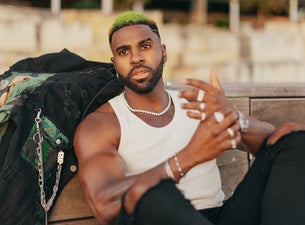 Rock/Pop
Jason Derulo Tickets
Events
3/27/24

Assago

Mediolanum Forum

JASON DERULO - NU KING TOUR
International Events
26 Events
2/23/24

OSLO, Norway

Oslo Spektrum

Jason Derulo

2/23/24

OSLO, Norway

Oslo Spektrum

Jason Derulo - VIP Packages

2/25/24

København S, Denmark

Royal Arena

Jason Derulo

2/25/24

København S, Denmark

Royal Arena

Jason Derulo - VIP-packages

2/28/24

Rotterdam, Netherlands

Rotterdam Ahoy

Jason Derulo - Nu King Tour

2/28/24

Rotterdam, Netherlands

Rotterdam Ahoy

Jason Derulo - Nu King Tour | VIP 1 Up Close Ultimate Fan Experience

2/28/24

Rotterdam, Netherlands

Rotterdam Ahoy

Jason Derulo - Nu King Tour | VIP 2 Diamond VIP Package

2/28/24

Rotterdam, Netherlands

Rotterdam Ahoy

Jason Derulo - Nu King Tour | VIP 3 Gold VIP Package

3/2/24

Brussels, Belgium

ING ARENA

JASON DERULO

3/24/24

Praha 9, Czech Republic

O2 arena

Jason Derulo

3/24/24

Praha 9, Czech Republic

O2 arena

Jason Derulo | VIP packages

3/24/24

Praha 9, Czech Republic

Parking Garage - O2 arena

Parking - Jason Derulo

6/7/24

TRONDHEIM, Norway

Dahls Arena

NEON | Festivalpass

6/7/24

STAVANGER, Norway

Vaulen

Vaulen Open Air | Festivalpass

6/7/24

TRONDHEIM, Norway

Dahls Arena

NEON | Festivalpass Premium

6/7/24

STAVANGER, Norway

Vaulen

Vaulen Open Air | Festivalpass Student

6/7/24

TRONDHEIM, Norway

Dahls Arena

NEON | Festivalpass Student

6/7/24

STAVANGER, Norway

Vaulen

Vaulen Open Air | Festivalpass VIP

6/7/24

TRONDHEIM, Norway

Dahls Arena

NEON | Festivalpass Premium Student
About
Jason Derulo, full name Jason Joel Desrouleaux, is an American singer, songwriter and dancer, born September 21, 1989, in Miramar, Florida. He has gained notoriety in the music scene with his versatile talent and ability to blend pop, R&B and dance influences.

Derulo began writing songs and performing at a young age. He made his official debut in 2009 with the self-titled album "Jason Derulo," driven by the hit singles "Whatcha Say" and "In My Head," which topped the international charts.

Throughout his career, Derulo has continued to churn out hits such as "Ridin' Solo," "Don't Wanna Go Home," "It Girl," and "Talk Dirty." His catchy style and engaging choreography made his performances memorable and gave him a prominent place in the music industry.

In addition to music, Jason Derulo has shown his versatility through collaborations with other artists and appearances on television programs, demonstrating his skills as a dancer and entertainer.With a string of hit albums, hit singles and a significant impact on pop culture, Jason Derulo continues to make his mark on the global music industry as a multifaceted and talented artist.