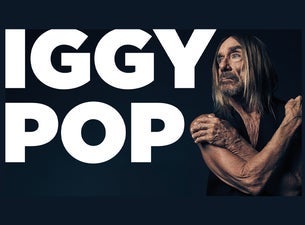 Alternative/Indie Rock
Iggy Pop Tickets
Events
7/17/23

Milan

Teatro degli Arcimboldi

Iggy Pop

Venue

Teatro degli Arcimboldi
International Events
9 Events
BERGEN, Norway

Bergenhus Festning

Festivalpass Bergenfest 2023 | Onsdag - Lørdag

6/15/23

BERGEN, Norway

Bergenhus Festning

Torsdagpass Bergenfest 2023

OSLO, Norway

Ekeberg

Festivalpass - 4 dager - 21, 22, 23, 24. juni - Tons of Rock 2023

OSLO, Norway

Ekeberg

Festivalpass - 3 dager - 22, 23, 24. juni - Tons of Rock 2023 -UTSOLGT

6/24/23

OSLO, Norway

Ekeberg

Dagspass lørdag - Iggy Pop, Kvelertak m.fl. Tons of Rock 2023

6/26/23

Mannheim, Germany

Maimarkt Gelände

Red Hot Chili Peppers - 2023 Tour

6/26/23

Mannheim, Germany

Maimarkt Gelände

Red Hot Chili Peppers | Early Entry

Bontida, Romania

Bánffy Castle

Electric Castle Festival - 19. - 23. Juli 2023

8/2/23

Marbella, Spain

Auditorio Starlite

Iggy Pop - Festival Starlite 2023
About
Iggy Pop, stage name of James Newell Osterberg, has began his music career during his teenage years in bands like Iguanas, The Prime Movers and The Stooges with which he has achieved the fame. Iggy founded The Stooges in 1967 together with the brothers Ron and Scott Asheston and Dave Alexander. The band has released albums like Raw Power and Fun House which have influenced the style of numerous artists.

After the disbanding of The Stooges in 1975, Iggy Pop followed his solo career. In 1977 the artist debuted with the albums The Idiot and Lust For Life. Among the most famous songs of Iggy Pop we can recall Lust For Life included in the soundtrack of the iconic movie Trainspotting and featured in the list of the 500 greatest song of all time of Rolling Stone, and The Passenger with the participation of David Bowie included in the album Lust For Life of 1977, The Endless Sea and I'm Bored from New Values of 1974, Real Wild Child (Wild One) from Blah – Blah -Blah of 1986 and Candy from Brick By Brick of 1990.

Iggy Pop has also collaborated with important artists such as David Bowie, Sum 41, Slash, Josh Homme from Queens Of The Stone Age, e Maneskin for the cover of I Wanna Be Your Slave. The artist received a Grammy Lifetime Achievement Award for his career.