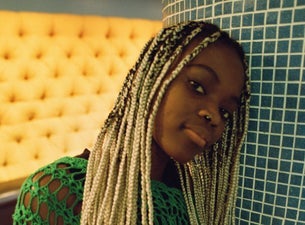 Alternative/Indie Rock
Hannah Jadagu Tickets
Events
3/22/24

Bologna

Covo Club

Hannah Jadagu
About
Hannah Jadagu is a talented musician from Texas who has quickly established herself in the indie music industry. In 2020, she decided to move to New York to enroll in the music business program at New York University, thus combining her passion for music with academic training.

In 2021, he debuted with an EP titled What Is Going On? released on the Sub Pop label. What makes this project unique is that it was created entirely using an iPhone 7 and the GarageBand app, an unconventional approach that caught the attention of many and gained Hannah Jadagu additional exposure.

Despite delays caused by the COVID-19 pandemic, Jadagu managed to participate in her first tour in October 2021, sharing the stage with artists such as Wild Nothing and Beach Fossils. During this period, he released the single All My Time Is Wasted, which was used in the American superhero television series Naomi.

In September 2022, Jadagu released the single Say It Now which was very successful and received critical praise. The song is praised for its combination of engaging indie-pop melodies and warm vocals, accompanied by direct lyrics that address significant issues.

In 2023, Jadagu announced his long-awaited debut album, titled Aperture, along with the single What You Did.This work was written while touring with Faye Webster, Wet and Frankie Cosmos, and explores the transitional period of his twenties. The title of the album is inspired by the priority of apertures in photography and as the artist explains it represents the need to make conscious choices about what we carry with us from our experiences and what we let go of, that is, what we project light into our lives.