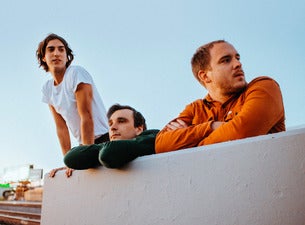 Rock/Pop
Half Alive Tickets
Events
Sorry... there are currently no upcoming events.
About
The concert of Half Alive previously scheduled for May 5 2022 at Santeria Toscana 31 in Milan has been rescheduled for March 8 2023 at the same venue. If you have alreday bought the tickets, these will be valid for the new show.


Half Alive were born in 2016 and consist of Josh Taylor (voice), Brett Kramer (drums) and J. Tyler Johnson (bass). The trio debuted in 2017 with the song The Fall included in the EP 3 recorded inside a helicopter hangar in the Mojave Desert. 3 included the songs Aawake at Night and Tip Toes which reached million streams on Spotify in a few months.

In 2019 Half Alive released the debut album Now, Not Yet preceded by the song Still Feel which has made the band famous. The song, also thanks to the unique music video, reached the Top 10 of the main American charts and overcome 95 million streams on Spotify. The songs taken off Now, Not Yet were Arrow, Runaway, Pure Gold, Breakfast and OK OK?. The album features the collaborations with Samm Haneshav and Kimbra.

Half Alive's latest work is the song Make of It which together with Summerland and What's Wrong precede the new album of the Californian band.