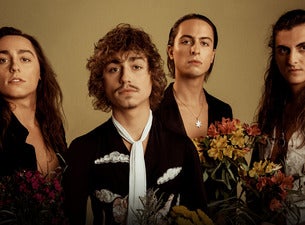 Rock/Pop
Greta Van Fleet Tickets
Events
Sorry... there are currently no upcoming events.
About
Greta Van Fleet were born in 2012 in Frankenmuth, Michigan. The band consists of the brothers Josh (voice), Jake (guitar) and Sam (bass) Kiskza and Danny Wagner (batteria). Their name pays homage to a fellow citizen of Frankenmuth: Gretna Van Fleet.

The band debuted in 2017 with the song Highway Tune, included in the TV series Shameless, followed by the EP Black Smoke Rising. During the same year Greta Van Fleet toured with The Struts.

Greta Van Fleet achieved fame with the album Anthem of The Peaceful Army, released in 2018. The album was a huge success with a Grammy Award for Best Rock Album and three nominations besides ranking in the Top 10 of the best-selling albums in countries like Canada (certified gold), Germany, Italy (certified gold), Polish (certified platinum), New Zeland and USA.

All the tracks form Anthem of The Peaceful Army have more than 10 million streams on Spotify. The singles When The Curtain Falls and You're The One reached 45 million streams on Spotify and 10 million views on YouTube.

After a world-tour with concerts all over the world, Greta Van Fleet returned in 2021 with the album The Battle at Garden's Gate produced by Greg Kurstin (Foo Fighters, Adele, Halsey, Paul McCartney). The songs taken off the album were My Way, Soon, Age of Machine, Heat Above and Broken Bells.