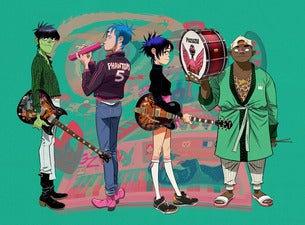 Alternative/Indie Rock
Gorillaz Tickets
Events
We're sorry, but we couldn't find any events
About
Gorillaz are a British band founded in 1998.

The band was born from the idea of Damon Albarn, singer of Blur, and of the cartoonist Jamie Hawlett. The members of the group are the animated characters Noodle (guitar), Murdoc (bass), Russell (drums) e 2D (voice).

Throughout their career Gorillaz have released six albums, among we can recall Demon Days of 2005 with the hit Feel Good Inc winner of the Record of the Year award at Grammys, The Fall of 2011 including collaborations with Bobby Womack, Mick Jones and Paul Simonon of The Clash and Humanz of 2019 certified golden record thanks to hit such as Ascension, Saturnz Barz, Andromeda and Let me Out.

In January 2020 the band put out Song Machine, a new visual album to celebrate their first 20 years of career. The album includes Momentary Bliss with Slowthai and Slaves, Désolé with Fatoumata Diawara, Aries with Peter Hook, Ho Far featuring Tony Allen and Skepta, Friday 13th feat. Octavian, Pac-Man featuring Schoolboy Q, Strange Timez with Robert Smith form The Cure, The Pink Phantom featuring Elton John & 6black and The Valley Of Pagans feat. Beck.

You can't miss one of the most original bands of the music world!