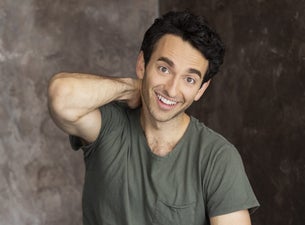 Comedy
Gianmarco Soresi Tickets
Events
Sorry... there are currently no upcoming events.
About
Gianmarco Soresi is a stand-up comedian, actor and podcaster.

Born in Potomac, Maryland, but of Italian descent, he earned a Bachelor of Fine Arts in theater from the University of Miami in 2011. He initially debuted as a stage actor performing in numerous productions and then moved closer and closer to the world of comedy.

Gianmarco over the course of his career has taken part as a comedian in programs such as Comedy Central, Netflix's Bonding, PBS's Stories from the Stage, SeeSo's New York's Funniest, George Takei Presents and was the winner of Amazon's Comics Watching Comics season 8.

In addition, Gianmarco has won critical acclaim for his stand-up show and the documentary Shelf Life directed by Emmy Award winner Andy Buck, currently streaming on Amazon Prime.

In addition to stand-up, he has also worked in television and film, in fact, he has appeared in television series such as "Blue Bloods" and "Law & Order: Special Victims Unit and in the films Here Today, Hustlers with Jennifer Lopez and played roles in the Bonding series released for Netflix.

He has also gained popularity in recent years due to his presence on social media, where he shares funny content and clips from his stand-up shows and is the host of the popular podcast The Downside with Gianmarco Soresi.