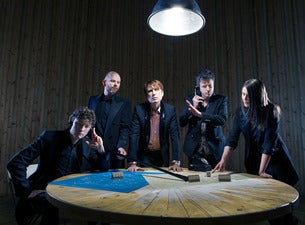 Alternative/Indie Rock
Franz Ferdinand Tickets
Events
Italy
There are no upcoming events in Italy
Don't worry, there are other events available below
International Events
1 Events
Hulst, Netherlands

Eiland Buitenvest

Vestrock 2023 - Combiticket Friday & Saturday
About
The show of Franz Ferdinand previously scheduled for March 24 2022 at Mediolanum Forum in Assago (Milan) and rescheduled for November 1st at the same venue has been switched to Alcatraz in Milan. Date and time remain unchanged. If you have already bought the tickets, these will be valid for the new show.


Franz Ferdinand, one of the most influential indie bands of the new millennium, will be back in Italy on November 1st at Alcatraz in Milan for an unmissable show of the Hits To The Head Tour 2022.

Franz Ferdinand are a Glasgow-native band which currently comprises Alex Kapranos (voice), Bob Hardy (bass), Dino Bardot (guitar), Julian Corrie (keyboards and choirs) and Audrey Tait (drums).

The band achieved fame in 2003 with the homonymous debut album Franz Ferdinand preceded by the singles Darts Of Pleasure and Take Me Out. The self-titled album received many international awards, including 2 Brit Awards, 1 Ivor Novello Awards, 1 Mercury Prize and 4 NME Awards.

Throughout their career, Franz Ferdinand released five albums from which were taken off the famous songs Walk Away and Puy Your Boots On from You Could Have It So Much Better of 2005, Ulysses and No You Girls included in Tonight: Franz Ferdinand of 2009 produced by Dan Carey (Squid, Fountains D.C., Black Midi, Tame Impala), Love Illumination from Right Thoughts, Right Words, Right Action of 2013 and Always Ascending from the homonymous album of 2018.

The famous indie-rock band has also collaborated with important artist such as Jane Birkin for the cover of Sorry Angel included in Monsieur Gainsbourg Revisited, La Roux for the cover of Blondie's Call Me presented at the NME Awards of 2009, Marillon Cotillard for the soundtrack of the campaign Lady Dior 2010 and Edwyn Collins for Do It Again.

In March 2022 Franz Ferdinand will be back with their new anticipated album Hits To The Head which will include the most important songs of the band. Hits to The Head will also features two unreleased tracks: Billy Goodbye and Curious produced by Kapranos in collaboration with Julian Corrie and Stuart Price (Dua Lipa, Madonna, Pet Shop Boys).

Do You Want To miss the Italian show of Franz Ferdinand? Buy immediately the official tickets!