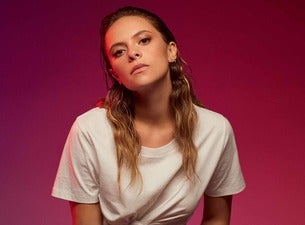 Rock/Pop
Francesca Michielin Tickets
Events
5/4/24

Verona

Arena di Verona

UNA NESSUNA CENTOMILA in Arena

5/5/24

Verona

Arena di Verona

UNA NESSUNA CENTOMILA in Arena
About
Francesca Michielin, a young singer-songwriter originally from Bassano del Grappa, won the fifth edition of the talent show "X Factor" at only 16 led by the judge and mentor Simona Ventura. Francesca Michielin's debut single was "Distratto", written by the Elisa and Roberto Casalino. The latter is known for being the author of Tiziano Ferro, Alessandra Amoroso and Marco Mengoni, among others. On January 24, 2013, Francesca Michielin's multiplatinum first EP "Distratto" came out and contained the debut single and five cover songs performed on "X Factor."

Francesca Michielin's featuring appears on the tracks "Cigno Nero" and "Magnifico" by the rapper Fedez. Francesca Michielin participated twice at the Sanremo Festival, the first time in 2012 with Chiara Civello with "Al Posto del Mondo" and the second time in 2015 with "Nessun Grado di Separazione", ranking second behind "Un giorno mi dirai" of the Stadio. Francesca Michielin represented Italy at Eurovision Song Contest 2016 with "No Degree Of Separation", the Italian-English version of "Nessun Grado di Separazione."

Francesca Michielin released four studio albums: "Riflessi di Me" (2012), "di20" (2015), "2640" (2018) and FEAT (Stato di Natura) (2020). The official singles off FEAT (Stato di Natura) are "Cheyenne" produced by Charlie Charles, "Riserva Naturale" with Coma Cose "Gange" with Shiva and "Monolocale" with Fabri Fibra.

In 2018, the Venetian singer-songwriter embarked on the tour "Il Tour Sopra la Techno", an original "electronic live set" inspired by the lyrics of the song "Io Non Abito al Mare." For the occasion, Francesca Michielin remixed all her greatest hits and some tracks of "2640" and played the electric bass, synth pad, moog and controller.