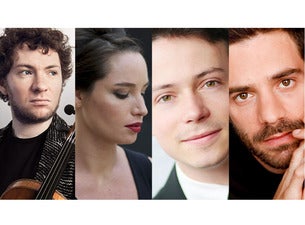 Classical
Fouchenneret, Berthaud, Levionnois, Laloum Tickets
About
At the turn of the twentieth century, when the women's movement was first beginning to gain ground in Europe, the climate became more favourable for women to show their creative talents. In France, in the field of musical composition, hitherto almost exclusively a male preserve, women succeeded in gaining recognition for their right to equality. Access to the Prix de Rome competition for musical composition illustrates this perfectly: it was created in 1803, but not until 1904 was a woman – Hélène Fleury – allowed to take part, and the first woman to win the Prix de Rome was Lili Boulanger in 1913. At the same time as this institutional recognition, venues opened up to promote the works of women composers such as Mel Bonis, Rita Strohl and Charlotte Sohy.

Graduated from the CNSMDP, Pierre Fouchenneret is invited by French and international orchestras and has recorded several albums, including the complete chamber music of Fauré and Brahms. Lise Berthaud is invited to perform as a soloist in concert halls and with international orchestras. She participates in the BBC New Generation Artists programme and plays with BBC orchestras. Winner of many international competitions, Yan Levionnois collaborates with various orchestras and is a member of the Hermès Quartet, with which he performs a repertoire ranging from the 19th century to contemporary music. After studying at the CNSMD in Paris and winning several prizes (Maurice Ravel, Clara Haskil competition and Victoires de la Musique classique), Adam Laloum performs in France and abroad as a soloist or in the ensemble Trio les Esprits that he founded.


Au tournant du XXe siècle, alors que le mouvement féministe connaît de premières victoires en Europe, le climat devient plus propice aux créatrices. Dans le milieu français de la composition musicale, jusqu'alors presque exclusivement réservé aux hommes, elles parviennent à faire reconnaître leur droit à l'égalité. L'accession au concours pour le prix de Rome de composition musicale en est le symbole le plus parlant. Créé en 1803, il faut attendre 1904 pour qu'une femme – Hélène Fleury – puisse enfin y participer et la première lauréate – Lili Boulanger – sera couronnée en 1913. Parallèlement à cette reconnaissance institutionnelle, des espaces s'ouvrent pour promouvoir les œuvres des compositrices telles que Mel Bonis, Rita Strohl et Charlotte Sohy.

Diplômé du CNSMDP, Pierre Fouchenneret est invité par des orchestres français et internationaux et enregistre plusieurs disques dont l'intégrale de musique de chambre de Fauré et de Brahms. Lise Berthaud est invitée comme soliste par des salles et orchestres internationales. Elle participe au programme BBC New Generation Artist et se produit avec les orchestres de la BBC. Lauréat de nombreux concours internationaux, Yan Levionnois collabore avec différents orchestres et fait partie du quatuor Hermès dans un répertoire qui va du 19e siècle à la création contemporaine. Après ses études au CNSMDP et avoir obtenu des prix (Maurice Ravel, concours Clara Haskil et Victoires de la Musique classique), Adam Laloum se produit en France et à l'étranger en solo ou avec l'ensemble le Trio les Esprits qu'il a fondé.