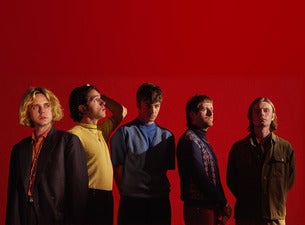 Rock/Pop
FONTAINES D.C. Tickets
Events
8/16/2022

Padua

Parco della Musica

FONTAINES D.C.
International Events
2 Events
Lisbon, Portugal

Passeio marítimo de Algés

NOS Alive 2022, 6-9 July 2022 | Order tickets in Germany

8/11/2022

OSLO, Norway

Tøyenparken

Thursday Ticket Øyafestivalen 2022
About
Due to the Covid-19 health emergency, the Fontaines D.C. concert scheduled on March, 13 2021 at Magazzini Generali in Milan and rescheduled for March, 23 2022 at the same venue has been shifted to Alcatraz in Milan. If you already bought tickets, these will valid for the new date.


After the amazing show at Teatro Regio in Parma, Fontaines D.C.'s post-punk music is coming to Italy for three unmissable live shows:


- June 7 2022, Arena Puccini, Bologna

- June 8 2022, Unaltrofestival, Circolo Magnolia, Segrate (Milan)

- August 16 2022, Parco della Musica, Padua


Fontaines comes from The Godfather character Johnny Fontane, while D.C. stands for Dublin City. Carlos O'Connell (guitar), Conor Curley (guitar), Conor Deegan (bass), Grian Chatten (vocals) and Tom Coll (drums) met at the British and Irish Modern Music Institute in Dublin and have a passion for poetry in common. For this reason, the group members published two collections Vroom and Winding.

Fontaines D.C.'s first singles Liberty Belle and Hurricane Laughter / Winter In the Sun date back to May 2017. After releasing the tunes Chequeless Reckless / Boys In The Better Land and Too Real in 2018, the Irish group put out their first album Dogrel on April, 12 2019. Fontaines D.C.'s debut album, which was shortlisted for the 2019 Mercure Prize and described by the Guardian as the perfect debut, references the well-known Irish poem about the working-class Doggerel.

The rising band has been praised by Stereogum, Rolling Stone, Pitchfork, The Guardian, The Times, NPR Music, Fader, Q and NME.

Dogrel was followed by A Hero's Death released in 2020 and nominated at Brit Awards and at Grammy Awards. A Hero's Death includes songs like Televised Mind and I Don't Belong which tells about the disconnection and the upheaval felt by the band during their world tour.

In 2022 Fontaines D.C. will be back with their new album Skinti Fia on April 22 2022. The album, whose title means deer's damnation, was preceded by the single Jackie Down The Line.

Too Real? Buy the official tickets to see Fontaines D.C. live in concerts in Italy!