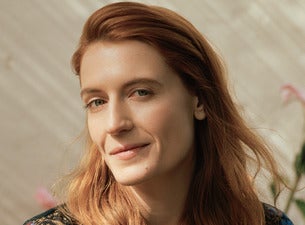 Rock/Pop
Florence + The Machine Tickets
Events
We're sorry, but we couldn't find any events
About
After playing two sold-out shows in Bologna (Unipol Arena) and in Turin (Palalpitour) last March, Florence + The Machine came back to Italy as headliner of Milano Rocks on August, 30.

Endowed with a sophisticated and powerful voice, Florence Welch is one the most talented and influential British artists in the world. Florence Welsh was discovered by Queens of Noize's Mairead Nash, who overheard her covering "Something's Got a Hold On Me" by Etta James in a London club toilet.

Florence and The Machine's debut album "Lungs" came out in 2009 and the British media welcomed it as one of the best 2019 albums.

Florence + The Machine achieved international stardom with "Kiss With A Fist", "Cosmic Love" and "Drumming Song". In 2010, Florence + The Machine received the "Best New Artist" Nomination at the Grammy Awards and "Lungs" won the MasterCard British Album award at the BRIT Awards 2010.

"Cerimonials", released on October, 28 2011, is 'an enriched and updated version of "Lungs".' "Cerimonials" contains the hit singles "Shake It Out" and "Spectrum".

In 2015, Florence and the Machine released their third studio album, "How Big, How Blue, How Beautiful" (2015), which was followed by "High As Hope" in 2018. The lead singles off "High As Hope" are "Sky Full of Song" and "Hunger".

"Haunted House" and "Moderation" are the latest Florence + The Machine's tracks: the former is an inspirational hymn, while the former shows a more intimate side of the frontwoman.

Florence Welsh has referenced Grace Slick, Etta James, Billie Holiday, The Velvet Underground and the Eurythmics as her biggest musical influences.

"Dogs Days Are Over": don't miss Florence and the Machine, part visionary rockstar, part glamorous goddess!