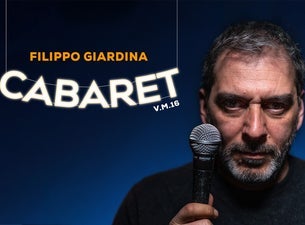 Comedy - Arts & Theater
Filippo Giardina Tickets
Events
1/22/24

Milan

Teatro Manzoni

Filippo Giardina - Cabaret

1/23/24

Turin

Teatro Gioiello

Filippo Giardina - Cabaret

1/25/24

Rome

Teatro Brancaccio

Filippo Giardina - Cabaret
About
Filippo Giardina is an Italian comedian.

Known for his direct way of doing satire, Filippo Giardina has been performing in clubs and theatres since 2001 as a satirical monologrist and in 2009 he founded the satirical collective Satiriasi.

Various experiences in the world of television: in 2013 he brought the collective of Satiriasi in the program Aggratis! on Rai 2, was author of the first two editions of the program Nemico pubblico on Rai 3, in the second edition also appears in video interviewed on current issues by international journalists such as Udo Gumpel and Eric Joszef, and since 2014, for three editions, participated as a comedian and coordinator of the program Stand Up Comedy on Comedy Central and was author and panelist of Sbandati on Rai 2.

He has also performed in comedy shows Scusate ma oggi vomito, Lavori in corso, Io non so-vendesi costituzione articolo 21 in saldo, Solerte Accidia-sesso politica religione e altre cose sporche, Bolle di Sapone: esistenzialismo satirico da 4 soldi, Sesto Potere, Contumelie, Lo ha già detto Gesù, Formiche and Dieci.