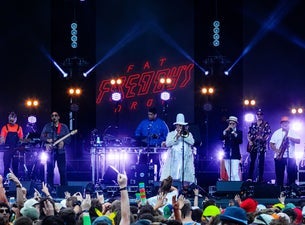 Dance/Electronic
Fat Freddy's Drop Tickets
Events
7/31/23

Segrate

Circolo Magnolia

Fat Freddy's Drop 2023
International Events
2 Events
About
Fat Freddy's Drop are a Wellington-based group founded in the nineties. They started off as a jam band and have gone from jamming and playing riffs to becoming a closely-knit group.

Fat Freddy's Drop is currently composed of Dallas Tamaira Joe Dukie for vocals and guitar, Chris Faiumu DJ Fitchie for percussions and production, Toby Laing Tony Chang on trumpet, Killa ManRaro on guitar, Iain Gordon Dobie Blaze on keyboards, Joe Lindsay Hopepa per trombone and tuba and Scott Towers Chopper Reedz on saxophone.

Fat Freddy's Drop released 7 studio albums: Based on a True Story, Dr. Boondigga & The Big BW, Blackbird, BAYS, Special Edition Part 1, LOCK-IN and the latest one, WAIRUNGA, released on 20 August 2021.

Since their debut, Fat Freddy's Drop have performed in the U.K., where they played many sold-out shows, in Germany, France, Spain and Italy.

Fat Freddy's Drop's sound is a psychedelic mixture of dub, reggae, soul, jazz and R&B.

Don't miss them!