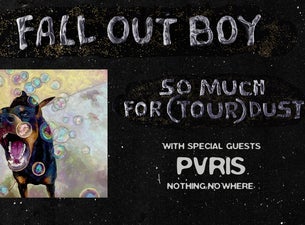 Alternative/Indie Rock
Fall Out Boy Tickets
Events
Sorry... there are currently no upcoming events.
About
Fall Out Boy are a pop punk band born in 2001 in Chicago. The band consists of Patrick Stump (voice and guitar), Pete Wentz (bass) and Andrew Hurley (drums).

The band debuted in 2002 with an EP with Project Rocket followed by Fall Out Boy's Evening Out with Your Girlfriend. The following year Fall Out Boy have signed with Fueled by Ramen and released their first album Take This to Your Grave recorded with Butch Vig.

In 2005 Fall Out Boy released their most successful album From Under The Cork Tree debuted in the TOP 10 of the Billboard 200 with more than 2,5 million copies sold. The album includes the songs Sugar We're Going Down, Dance, Dance and A Little Less Sixteen Candles, A Little More "Touch Me".

Among the most famous albums of Fall Out Boy we can recall Infinity on High of 2007 which has debuted on the top of the Billboard of the albums, Folie à Deux of 2008 and American Beauty/American Psycho of 2015.

In 2023 Fall Out Boy will be back with the album So Much (for) Stardust produced with Neal Avron.