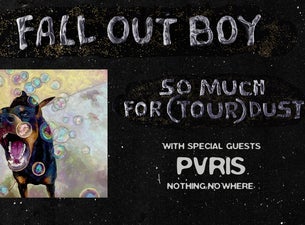 Alternative/Indie Rock
Biglietti per Fall Out Boy
Eventi
20/10/23

Assago

Mediolanum Forum

Fall Out Boy

Luogo dell'evento

Mediolanum Forum
Eventi internazionali
19 eventi
17/10/23

Warsaw, Polonia

COS Torwar

Fall Out Boy - So Much For (Tour) Dust UK & Europe 2023

18/10/23

Praha 7, Rep. Ceca

Sportovní hala FORTUNA

Fall Out Boy: So Much For (Tour) Dust UK&Europe 2023 - Praha

21/10/23

München, Germania

Zenith

Fall Out Boy : So Much For (Tour) Dust UK/Europe Arena Tour

21/10/23

München, Germania

Zenith

Fall Out Boy | So Much (For) VIP Experience

21/10/23

München, Germania

Zenith

Fall Out Boy | What A Time To Be A VIP Package

24/10/23

Amsterdam, Paesi Bassi

AFAS Live

Fall Out Boy - So Much For (Tour) Dust

24/10/23

Amsterdam, Paesi Bassi

AFAS Live

Fall Out Boy | So Much (For) VIP Experience

24/10/23

Amsterdam, Paesi Bassi

AFAS Live

Fall Out Boy | What A Time To Be A VIP Package

25/10/23

Vorst, Belgio

Vorst Nationaal/Forest National

Fall Out Boy

06/11/23

Oberhausen, Germania

Rudolf Weber-ARENA

Fall Out Boy : So Much For (Tour) Dust UK/Europe Arena Tour

06/11/23

Oberhausen, Germania

Rudolf Weber-ARENA

Fall Out Boy | So Much (For) VIP Experience

06/11/23

Oberhausen, Germania

Rudolf Weber-ARENA

Fall Out Boy | What A Time To Be A VIP Package

07/11/23

Hamburg, Germania

Barclays Arena

Fall Out Boy : So Much For (Tour) Dust UK/Europe Arena Tour

07/11/23

Hamburg, Germania

Barclays Arena

Fall Out Boy | Premium-Package GOLD

07/11/23

Hamburg, Germania

Barclays Arena

Fall Out Boy | So Much (For) VIP Experience

07/11/23

Hamburg, Germania

Barclays Arena

Fall Out Boy | What A Time To Be A VIP Package

08/11/23

Berlin, Germania

Max-Schmeling-Halle

Fall Out Boy : So Much For (Tour) Dust UK/Europe Arena Tour

08/11/23

Berlin, Germania

Max-Schmeling-Halle

Fall Out Boy | So Much (For) VIP Experience

08/11/23

Berlin, Germania

Max-Schmeling-Halle

Fall Out Boy | What A Time To Be A VIP Package
Informazioni
I Fall Out Boy sono un gruppo musicale icona del genere pop punk. La band si è formata nel 2001 a Chicago ed è attualmente composta da Patrick Stump (voce e chitarra), Pete Wentz (basso) e Andrew Hurley (batteria).

Il gruppo ha debuttato nel 2002 con l'EP realizzato insieme ai Project Rocket seguito da Fall Out Boy's Evening Out with Your Girlfriend. L'anno successivo i Fall Out Boy firmano con l'etichetta Fueled By Ramen e pubblicano il primo album Take This to Your Grave registrato insieme a Butch Vig.

Nel 2005 i Fall Out Boy pubblicano From Under The Cork Tree, l'album di maggior successo della band, che ha debuttato nella TOP 10 della Billboard 200 raggiungendo gli oltre 2,5 milioni di copie vendute. L'album contiene i brani Sugar We're Going Down, Dance, Dance e A Little Less Sixteen Candles, A Little More "Touch Me".

Tra gli album più famosi dei Fall Out Boy possiamo trovare Infinity on High del 2007 che ha debuttato in cima alla classifica Billboard degli album, Folie à Deux of 2008 e American Beauty/American Psycho del 2015.

Nel 2023 i Fall Out Boy torneranno con l'album So Much (for) Stardust prodotto insieme a Neal Avron.