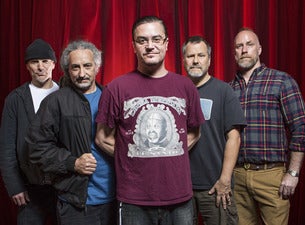 Alternative/Indie Rock
Faith No More Tickets
Events
Italy
There are no upcoming events in Italy
Don't worry, there are other events available below
International Events
2 Events
Lisbon, Portugal

Passeio marítimo de Algés

NOS Alive 2022, 6-9 July 2022 | Order tickets in Germany

HELSINKI, Finland

KAISANIEMEN PUISTO

In The Park: Faith No More, Ugly Kid Joe, Therapy?
About
In compliance with the medical emergency set to prevent COVID-19 from spreading, the Faith No More concert scheduled on July, 6 2020 at Ippodromo SNAI San Siro in Milan has been cancelled. For further information, please READ HERE
Founded in San Francisco in 1979, Faith No More are Mike Bordin (drums), Roddy Bottum (keyboard), Bill Gould (bass), Jon Hudson (guitar) and Mike Patton (vocals.)
The American rock band has released seven studio albums: "We Care A Lot" (1985), "Introduce Yourself" (1987), "The Real Thing" (1989), "Angel Dust" (1992), "King For A Day… Fool For A Lifetime" (1995), "Album of the Year" (1997) and "Sol Invictus" (2015).
Faith No More last toured in Europe in 2015 to support the album "Sol Invictus." The latter performed well on the charts (#2 in Australia, #4 in Germany, #6 in the US and the UK.)