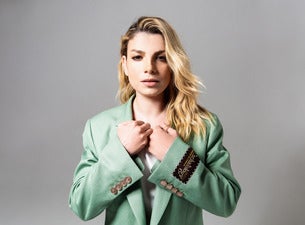 Rock/Pop
Emma Marrone Tickets
Events
5/4/24

Verona

Arena di Verona

UNA NESSUNA CENTOMILA in Arena

5/5/24

Verona

Arena di Verona

UNA NESSUNA CENTOMILA in Arena
About
Emma Marrone debuted in 2003 after participating and winning the talent show Superstar Tour where she started the girl band Lucky Star with Laura Pisu and Colomba Pane. After the hit Stile, the girls stopped working together until 2005 with the release of the album LS3. In 2006 the Lucky Star dissolved definitively.

Emma Marrone achieved fame in 2010 by winning the talent show Amici of Maria De Filippi. Thanks to the talent show Emma signed her first record deal with Universal Music Italy.

Among her biggest milestones there are several gold, platinum and multi-platinum records, the win of the Sanremo Music Festival in 2012 with the song Non è l'Inferno and a great number of awards such as the MTV Awards, the Wind Music Awards and the Latin Music Italian Awards. Emma also took part in international competitions such as the Eurovision Song Contest of 2014 where she represented Italy with the song La Mia Città.

Throughout her career, Emma has released six albums. Among the most important records we can recall the debut album A Me Piace Così of 2010, Adesso of 2015 which is the first self-product record of the artist in collaboration with Ermal Metal and Giuliano Sangiorgi of Negramaro as authors and Fortuna of 2019, produced in Los Angeles, including collaborations with Elisa, Franco126, Dardust and Vasco Rossi for the song Io Sono Bella.

In 2021 Emma Marrone was one of the first Italian artists to perform a live concert, after the stop caused by the epidemiological situation. On June 15 the singer performed at Arena di Verona to celebrate her 10-year year career and the release of Best Of Me, a compilation of her most important songs rearranged and produced by Katoo & Deepa. For this very important event, which was also live streamed, Emma welcomed special guests such as Loredana Bertè and Alessandra Amoroso on stage.