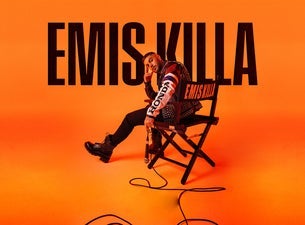 Hip-hop/R&B
Emis Killa Tickets
Events
Sorry... there are currently no upcoming events.
About
Emiliano Rudolf Giambelli, aka Emis Killa, is a well-known rapper on the Italian music scene. Originally from Milan, Emis Killa approached rap at the age of 14, attracted by rap battles.

In 2007, Emis Killa took the stage at Tecniche Perfette, a cult competition for all rap and freestyle battle fans, winning the title of Italian freestyle champion. Once he had worked on his lyrics, in 2009 he published his first mixtape entitled Keta Music.

In 2010 Emis Killa released the street album Champagne e spine, which consecrated him as the young talent of rap made in Italy, collaborating with artists such as Jake La Furia and Guè Pequeno of Club Dogo, Marracash, Bassi Maestro and with producers Don Joe and Big Fish.

In 2011, after the release of The flow cocker vol.1, Emis Killa signed a contract with Carosello Records with which he released an EP entitled Il peggiore and his first official album L'erba cattiva, released in January 2012 and in collaboration with Guè Pequeno, Marracash, Fabri Fibra and many others. The album became platinum and stayed at the top of the official sales charts for one year. This was followed by the L'erba cattiva tour, which sold out everywhere until mid-September 2012.

The following album was Mercurio, which debuted at number 1 in the best-selling albums chart and went platinum. Emis Killa is the first Italian artist to be invited to the US Bet Hip Hop Awards, one of the most popular hip hop events in the world.

In addition to hosting the One Two One Two programme on Radio Deejay, Emis Killa started the Mercurio tour, which also sold out. Emis Killa signed the Sky Sport World Cup soundtrack with the hit Maracanã, created especially for this event.

Emis Killa also enjoyed writing his first book Bus 323. Viaggio di sola andata, which immediately became a publishing success. In 2016, Emis Killa was one of the coaches of the new edition of the talent show The Voice of Italy.

Emis Killa's third album was Terza Stagione, which contained hits such as Non era vero, CULT and Dal basso. This was followed by the singles Linda, certified platinum, Serio, in collaboration with Capo Plaza and in 2018 the hit Rollercoaster which was part of the new album Superhero.

Emis Killa's latest album released in 2020 is entitled 17, produced in collaboration with Jake La Furia and certified gold.

On May 19, 2023, Emis Killa released his fifth studio album entitled Effetto Notte. The title of the album is an homage to director François Truffaut's meta-cinematic masterpiece. Each track on the album is connected to a film, not so much because of the subject matter, but because of the atmosphere it expresses. References to the films are mentioned along with the titles of each track.