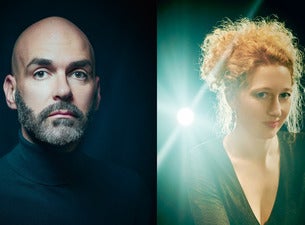 Classical
Émeline Bayart, Manuel Peskine Tickets
Events
Sorry... there are currently no upcoming events.
About
The actress and singer Émeline Bayart likes songs that tell a story. Tales of passion, libertinage and love-hate; men and women who get bored, have affairs, and tear each other to pieces. Sad tales, made hilarious. Accompanied on the piano by Manuel Peskine, she draws on the café-concert repertoire and that of characterful female singers from Yvette Guilbert to Juliette (with no attempt to imitate them). She holds the melodic line, only to break it with spoken words or a change of register, moving from head voice to chest voice, from singing to speech, from a shout to a whisper. A naughty, funny, poetic recital.

After studying music at the Lille Conservatoire and theatre at the CNSMD in Paris, Émeline Bayart worked as an actress-singer and theatre and film director. She has created and directed two recitals: Affreuses, Divines et Méchantes (Opéra Comique) and D'Elle à Lui (Théâtre du Rond-Point) in collaboration with Manuel Peskine. After studying piano, writing and conducting, Manuel Peskine devoted himself to composition through classical music, jazz and world music. He has created stage music and music for films such as Ma Compagne de Nuit by Isabelle Brocard and L'Affaire Sacha Guitry by Fabrice Cazeneuve. At the same time, he continues his career as a pianist.


Après une formation musicale au Conservatoire de Lille et théâtrale au CNSDP, Émeline Bayart est comédienne-chanteuse et metteuse en scène au théâtre et au cinéma. Elle crée et donne deux récitals : Affreuses, Divines et Méchantes (Opéra Comique) et D'Elle à Lui (Théâtre du Rond-Point) en collaboration avec Manuel Peskine. Après des études de piano, d'écriture et direction d'orchestre, Manuel Peskine développe la composition à travers le classique, le jazz, et les musiques du monde. Il crée des musiques de scène et de film tels que Ma Compagne de Nuit d'Isabelle Brocard et L'Affaire Sacha Guitry de Fabrice Cazeneuve. Il poursuit parallèlement sa carrière de pianiste.