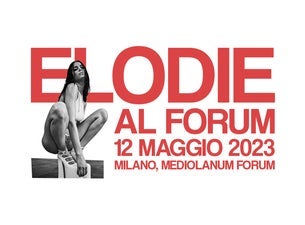 Events
5/4/24

Verona

Arena di Verona

UNA NESSUNA CENTOMILA in Arena
About
Born in Rome and raised in Lecce, Elodie rose to prominence in 2016 after winning the Premio della Critica Vodafone and Premio RTL 102.5 and ranking second in the talent show Amici di Maria De Filippi behind Sergio Sylvestre.

Elodie's debut single Un'Altra Vita, which belongs to her debut album of the same name, was written by the singer-songwriter Fabrizio Moro.

In 2017, the former model participated for the first time in Sanremo Music Festival with the song Tutta Colpa Mia written by Emma Marrone, a colleague with whom she had previously collaborated for Amore avrai and opened up for on the Adesso Tour. In the same year, the featuring of Elodie appeared on the song Così diversa by Francesco Renga, who wanted her as a special guest of his Scriverà il tuo nome Tour.

Since 2018, Elodie has taken part in several successful collaborations, from Nero Bali with Michele Bravi and Guè to Pensare Male with The Kolors. In 2019, the single produced by Takagi & Ketra, Margarita, introduced her to the rapper and now ex partner Marracash.

The singer from Salento competed in Sanremo Music Festival of 2020 with the song Andromeda written by Mahmood and Dardust. From the third studio album, This Is Elodie, released on 31 January 2020, the songs Non È La Fine with the rapper Gemitaiz and the summer hit Guaranà were extracted.

The artist returned to the stage of Teatro Ariston with a mash-up of her most beloved songs remixed with the greatest hits of Madonna, Beyoncé and Loredana Bertè at Sanremo Music Festival in 2021. In the same year she release the hit Vertigine.

After releasing the singles Bagno a mezzanotte and Tribale, Elodie has debuted as an actress in the movie Ti mangio il cuore. She also produced a song for the soundtrack, Proiettili (Ti Mangio il Cuore) with Joan Thiele. The song was written and composed by Elisa, Elodie, Joan Thiele and Emanuele Triglia.

The latest single by Elodie, Ok. Respira, was released on 12 December 2022 and it is the title track of her new album, Ok. Respira, set to be released on 10 February 2023.

Elodie will partecipate in the edition of 2023 of Sanremo Music Festival.