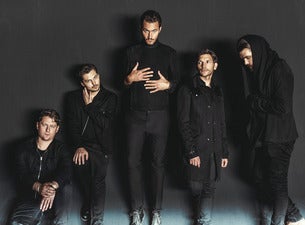 Alternative/Indie Rock
Editors Tickets
Events
Italy
There are no upcoming events in Italy
Don't worry, there are other events available below
International Events
3 Events
3/5/24

Amsterdam, Netherlands

AFAS Live

Editors

3/6/24

Amsterdam, Netherlands

AFAS Live

Editors

3/8/24

Merksem (Antwerpen), Belgium

Sportpaleis Antwerpen

Editors
About
The Editors were Home Venice Festival's headliners on the festival opening day on July, 12 2019 at Parco San Giuliano in Mestre, Venice.

The British band led by Tom Smith, which made their debut with the song "Bullets" in 2005, has sold over two million records worldwide.

After the release of their fifth record, "In Dream", the Editors put out their sixth studio album "Violence" on March, 9 2018. Produced by Leo Abrahams (Florence & The Machine, Wild Beasts), "Violence" was teased through the release of the single "Magazine."

The frontman Tom Smith used the word "brutal" to point out the aggressive album title and the band's hard, enveloping sound. The violence on the record acts as a protective shield against the ugliness of the outside world.

According to the tabloid "The Mirror", Tom Smith has the largest vocal range in the UK.