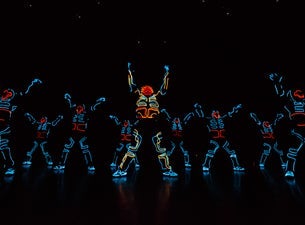 Ballet & Dance
E.L Squad Tickets
Events
1/20/24

Padua

Gran Teatro GEOX

E.L Squad

1/21/24

Brescia

Gran Teatro Morato

E.L Squad
About
E.L Squad is a Hip Hop group founded in 2012 by famous Japanese dancer and choreographer Yokoi.

The group has become world famous through their spectacular performances in which using electroluminescence technology they create light and shadow effects and light games. The dancers move in the darkness wearing glowing wires and perform fascinating numbers to engaging rhythmic music.

Their show called Lights in the dark has been a big hit around the world and tells the story of a character who gets lost in a parallel world and goes on an extraordinary adventure with unique characters who show both their light and dark sides.