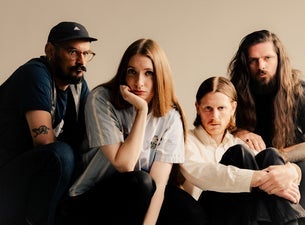 Rock/Pop
Dry Cleaning Tickets
Events
Sorry... there are currently no upcoming events.
About
The concert of Dry Cleaning previously scheduled for January 21 2022 at Circolo Magnolia in Segrate (MI) has been rescheduled for April 28 2022 at the same venue. If you have already bought ticktes, these will be valid for the new show.

The concert of Dry Cleaning previously scheduled for January 22 2022 at Covo Club in Bologna has been cancelled. For further information, please READ HERE
The south London post-punk quartet Dry Cleaning arrive in Italy for the first time with their debut album New Long Leg for a special live show on April 28 2022 at Circolo Magnolia in Segrate (Milan).
Friends Nick Buxton (drums), Tom Dowse (guitar), Lewis Maynard (bass) decided to form Dry Cleaning in 2017 after a karaoke party. After 6 months of writing, Florence Shaw, an artist, university assistant and photoeditor, became the frontwoman of the post-punk band by showing up at rehearsals with a bundle of lyrics she wrote and with Michael Bernard's book Fears Of Your Life.
Produced by John Parish (PJ Harvey, Aldous Harding), Dry Cleaning's debut album was preceded by the singles Strong Feelings and Scratchcard Lanyard. Compared to 2019's electrifying EP Boundary Road Snacks and Drinks and Sweet Princess, the more ambitious and complex New Long Leg addresses issues such as separation, escape, daydreams, love, anger, revenge, anxiety, cooking, lethargy, forgetfulness and survival.
Strong Feelings is a Brexit-themed love song about being secretly in love with someone.
Have Strong Feelings you don't want to miss Dry Cleaning in Milan in 2022!