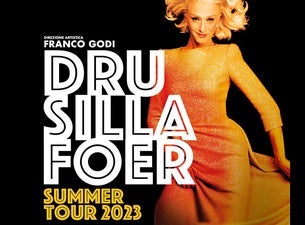 Plays
Drusilla Foer Tickets
Events
6/10/23

Brescia

Gran Teatro Morato

Drusilla Foer - Summer Tour 2023

7/5/23

Piazzola sul Brenta

Piazzola Live Festival - Anfiteatro Camerini

Drusilla Foer - Summer Tour 2023

Venue

Piazzola Live Festival - Anfiteatro Camerini

7/6/23

Udine

Piazzale del Castello Udine

Drusilla Foer - Summer Tour 2023

Venue

Piazzale del Castello Udine

7/9/23

Villafranca di Verona

Castello Scaligero di Villafranca

Drusilla Foer Summer Tour 2023

Venue

Castello Scaligero di Villafranca
About
Drusilla is a nobile woman coming from a rich family of Siena who grew up in Cuba. After living in different cities, the artist has moved to New York to open a second hand shop and to performa the most important theatres. Drusilla is living in Florence at the moment with her maid Ornella after the death of her two husbands.

Drusilla debuted in 2021 on YouTube for the interview of In Venti Minuti di Lei and then took part in The Show Must Go On with Serena Dandini. After having a role in the movie Magnifica Presenza of Ferzan Ozpetek, Drusilla Foer achieved the fame on the web and with her shows.

Drusilla Foer took part in the TV shows StraFactor, Ciao maschio, CR4- La Repubblica delle Donne and was the co-host of the third night of Sanremo Music Festival 2022.