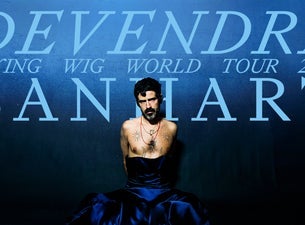 Alternative/Indie Rock
Devendra Banhart Tickets
Events
Sorry... there are currently no upcoming events.
About
Devendra Banhart is an American-Venezuelan singer-songwriter and visual artist.

In 2000 he dropped out of the San Francisco Institute of Art to pursue a career in music, moving to Paris and beginning to open shows for indie rock bands such as Sonic Youth. In the fall of that year he would return to the states performing between San Francisco and Los Angeles.

In 2002 Devendra Banhart releases his first studio album, entitled The Charles C. Leary, which is quite successful. From this moment his musical career takes life, releasing a total of 11 albums and boasting collaborations with great artists.

Devendra Banhart's musical style can be considered an eclectic fusion of genres and influences, with roots in folk, psychedelic, and alternative music. His music often eludes genre definitions and encompasses a wide range of styles, making it difficult to assign a precise label. Devendra Banhart recently announced his latest album Flying Wig and due out September 22 via Mexican Summer. The first single taken from the album is titled Twin and is inspired by the neo-noir films of the 1980s; the image plays into the theme of the song, which is the search for connection and beauty in cyclical experiences.