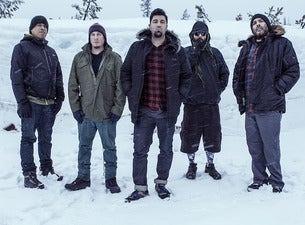 Hard Rock/Metal
Deftones Tickets
Events
Italy
There are no upcoming events in Italy
Don't worry, there are other events available below
International Events
5 Events
6/26/2022

Hamburg, Germany

edel-optics.de Arena

Deftones

6/27/2022

Berlin, Germany

Columbiahalle

Deftones - Event relocated to Verti Music Hall

6/27/2022

Berlin, Germany

Verti Music Hall

Deftones

6/27/2022

Berlin, Germany

Verti Music Hall

Deftones | Premium Seat

6/27/2022

Berlin, Germany

Verti Music Hall

Deftones | Premium Seat & Drinks
About
Due to the global restrictions to contain the Covid-19 pandemic, the Deftones concert originally scheduled on June 22 2021 at the Sequoie Music Park at Parco delle Caserme Rosse in Bologna has been rescheduled for June 21 2022 at the same venue. If you already bought tickets, these will be valid for the new date. For further information, please READ HERE
In compliance with the medical emergency set to prevent COVID-19 from spreading, the Deftones concert scheduled on June 23 2020 at Arena Esterna of Le Gru in Grugliasco, Turin, has been cancelled. For further information, please
READ HERE
The multiplatinum and Grammy Award-winning band Deftones is headlining Sequoie Music Park on June 21 2022 at Parco delle Caserme Rosse in Bologna. This will be their only Italian date off their 2022 summer tour.
Deftones is a Sacramento-native nu metal group that has released 8 studio albums and sold more than 10 million copies all over the world.
Deftones is made of Chino Moreno (vocals, guitar), Stephen Carpenter (guitar), Frank Delgado (keyboard, sampling), Abe Cunningham (drums) and Sergio Vega (bass).
On their records, the angry lyrics perfectly match with the powerful musical arrangements and psychedelic and shoegaze sonorities.
From their first record Adrenaline through their latest album Gore, Deftones have marked the international alternative rock music history.
Be Quiet And Drive to Grugliasco to see the band combining ferocity and beauty!