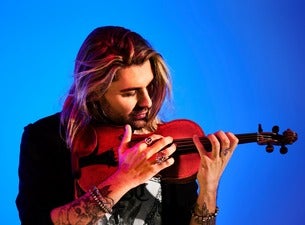 Rock/Pop
David Garrett Tickets
Events
Italy
There are no upcoming events in Italy
Don't worry, there are other events available below
International Events
3 Events
7/7/23

Bremen, Germany

Seebühne Bremen

Seebühnen Lounge-Ticket 07.07.23 (David Garrett Trio)

7/7/23

Bremen, Germany

Seebühne Bremen

David Garrett Trio

7/7/23

Bremen, Germany

Seebühne Bremen

David Garrett Trio (Strandkorb)
About
The David Garrett concert originally scheduled for October 2020 and then moved to October 2021, to April and May 2022 and to October 9 2022 at Zoppas Arena in Conegliano has been switched to Gran Teatro Geox in Padua.

The David Garrett concert originally scheduled for October 2020 and then moved to October 2021 and to April and May 2022 has been rescheduled for September 11 2022 at Mediolanum Forum in Assago (Milan). If you already bought tickets, these will be valid for the corresponding 2022 dates.


After collecting achievements in 14 countries and playing the sold-out shows at Arena di Verona and Reggia di Caserta in September 2019, David Garrett is celebrating his ten-year career by bringing his new worldwide Alive Tour 2022 to Italy:


September 11 2022 – Mediolanum Forum, Assago, Milan

October 9 2022 – Gran Teatro Geox, Padua


David Garrett ranges from playing the most complex classical pieces to performing the beloved rock anthems, thus deserving the title of the modern crossover pioneer. By using music, videos and new technology, the virtuous, versatile and "unlimited" violin rockstar has stunned audiences all over the world with his renditions of Purple Rain, Smells Like Teen Spirit, Nothing Else Matters, November Rain, Viva la vida and Hey Jude and his arrangements of classical pieces such as Sinfonia n. 5 by Beethoven and Clair de Lune by Debussy. David Garrett has received 24 Golden Records and 16 Platinum Records worldwide.

Intimate as a concert in your living room and intoxicating as a stadium show, the name and mood of David Garrett's new tour come from his latest album Alive – My Soundtrack, a record in which the violist brings us into his personal musical world through the soundtrack of his life. Alive captures the urge to live and the desire of the artist and his band to finally return live for all their fans.

On Alive Tour 2022, David Garrett will drive fans into several worlds: a crystal-clear sea, the moon, a futuristic megalopolis and thrilling car chases. The pop Paganini is playing unreleased tracks, unplugged tracks and some of his biggest hits.

Don't miss the Devil's Violinist!