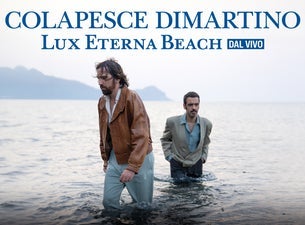 Rock/Pop
Colapesce Dimartino Tickets
Events
Sorry... there are currently no upcoming events.
About
Colapesce Dimartino are the musical duo born in 2020 from the collaboration of the two Sicilian singer-songwriters Lorenzo Urciullo (Colapesce) and Antonio Di Martino (Dimartino).

The duo debuted in the summer of 2020 with the album I Mortali preceded by the singles L'Ultimo Giorno, Adolescenza Nera, Rosa e Olindo and Luna Araba.

In 2021 Colapesce Dimartino participate in the Sanremo Festival with the song Musica Leggerissima ranking fourth and winning the Premio della Sala Stampa Radio TV-Web Lucio Dalla. The song became a real hit that remained at the top of the FIMI chart for seven weeks.

In 2023 Colapesce Dimartino went back to the Sanremo Festival with the song Splash winning the Critics Award Mia Martini and the Press Room Award Radio - TV - Web Lucio Dalla. Later the duo released the album La Primavera Della Mia Vita containing 30 tracks based on the works of Franco Micalizzi, Ennio Morricone, Riz Ortolani, Fabio Frizzi and Piero Umiliani.