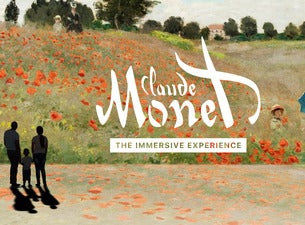 Museums/Exhibits
Claude Monet - The Immersive Experience Tickets
Events
Sorry... there are currently no upcoming events.
About
The OPEN ticket allows you to enter the exhibition on the day and at the time you'd like until its closing, CLICK HERE to buy it.

All future dates of the exhibition Claude Monet: The Immersive Experience will be opened soon. Tickets to access to the exhibition can be purchased online up until the day before the visit, while at the event venue they can also be purchased on the same day.
The exhibition Claude Monet: The Immersive Experience comes to Southern Italy from Thursday May 20, 2021 at the Church of San Potito in Naples.
A unique and innovative experience from a visual point of view, which has already drawn over 85,000 visitors in Brussels and 100,000 in Madrid in recent years.
A digital art event organized by Exhibition Hub Edutainment uses the most advanced digital mapping techniques to create a new interpretation of the works of the founder of Impressionism. Between paint projected onto more than 1.000 m2 of screens and virtual reality (VR), you will be guided on a journey through the colors and plays of light of more than 300 paintings by Monet.
Monet: The Immersive Experience is an interactive and immersive show dedicated to a wide audience and is also perfect to be experiences with the family. Claude Monet's masterpieces literally come alive under your feet and all around you.
A journey into art, to be experienced through the contemporary digital language!