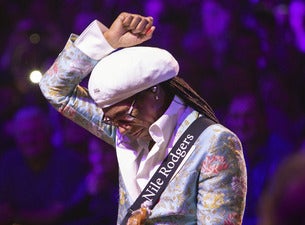 Hip-hop/R&B
Nile Rodgers & Chic Tickets
Events
We're sorry, but we couldn't find any events
About
The music legend Nile Rodgers and the timeless Chic will perform on June 12 2022 at the Ippodromo Milano Trenno for the final night of I-Days Milano.

The Grammy-winning American composer, producer, arranger and guitarist is constantly exploring new musical terrains and genres, successfully crossing musical and generational boundaries, just think of the hit Get Lucky with Daft Punk and Pharrell Williams, the new single One More with SG Lewis and the collaborations with Avicii, Sigala, Disclosure and Sam Smith. For this reason, Nile Rodgers entered the Rock & Roll Hall of Fame and the Songwriters Hall of Fame.

As the co-founder of the iconic disco group, Chic, the newly elected Chairman of the Songwriters Hall Of Fame created chart-topping hits like Le Freak, Atlantic Records' best-selling single ever, and sparked the advent of hip-hop with Good Times.

Nile Rodgers has also been appointed as the first ever Chief Creative Advisor for the legendary Abbey Road Studios and his sets at Glastonbury and at Coachella are featured in the best of collections of both festivals. The BBC has nominated Nile Rodgers & Chic's performance for Best Live Performance at the BBC Music Awards.

With Chic and his productions for artists such as David Bowie, Diana Ross and Madonna, Nile Rodgers has sold over 500 million albums and 75 million singles worldwide. In 2018, Nile Rodgers & Chic released their first studio album in over 26 years. It's About Time was critically acclaimed and ranked in the Top 10 of the UK album charts.