Rock/Pop
Cesare Cremonini Tickets
Events
10/29/22

Mantua

Grana Padano Arena

Cesare Cremonini

11/1/22

Rome

Palazzo dello Sport - Roma

Cesare Cremonini

Venue

Palazzo dello Sport - Roma

11/2/22

Rome

Palazzo dello Sport - Roma

Cesare Cremonini

Venue

Palazzo dello Sport - Roma

11/4/22

Rome

Palazzo dello Sport - Roma

Cesare Cremonini

Venue

Palazzo dello Sport - Roma

11/5/22

Rome

Palazzo dello Sport - Roma

Cesare Cremonini

Venue

Palazzo dello Sport - Roma

11/7/22

Casalecchio di Reno

Unipol Arena

Cesare Cremonini

11/8/22

Casalecchio di Reno

Unipol Arena

Cesare Cremonini

11/10/22

Casalecchio di Reno

Unipol Arena

Cesare Cremonini

11/11/22

Casalecchio di Reno

Unipol Arena

Cesare Cremonini

11/13/22

Assago

Mediolanum Forum

Cesare Cremonini

11/14/22

Assago

Mediolanum Forum

Cesare Cremonini

11/16/22

Assago

Mediolanum Forum

Cesare Cremonini

11/17/22

Assago

Mediolanum Forum

Cesare Cremonini
Experience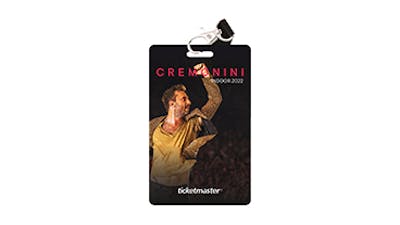 The exclusive Collector Ticket for the tour of Cesare Cremonini
For all the shows of Cremonini Indoor 2022 is available the Collector Ticket, is a collectible souvenir ticket of Cesare Cremonini's tour.
Find Tickets
About
All About Cesare Cremonini
Cesare Cremonini will be back in 2022 with the new tour Cremonini Indoor 2022:
October 29 – Grana Padano Arena, Mantua
November 1, 2 and 4 – Palazzo dello Sport, Rome
November 7, 8, 10 and 11 – Unipol Arena, Bologna
November 13, 14, 16 and 17 – Mediolanum Forum di Assago (Milan)
Cesare Cremonini's career officially began on May 27, 1999 with the release of his debut song 50 Special together with his historic band, Lùnapop. 50 Special, which has become a generational hymn, was the first single taken from ...Squérez?, Lùnapop's first and only album released in November 1999. ...Squérez? sold over a million and a half copies and was the third best-selling album in Italy in 2000 after The Beatles 1 and Carlos Santana's Supernatural.

In 2002, Cesare Cremonini broke up Lùnapop to dedicate himself to his solo career, accompanied by his friend and bassist, Ballo.

Cesare Cremonini has released six studio albums: Bagus (2002), Maggese (2005), Il primo bacio sulla Luna (2008), La teoria dei colori (2012), Logico (2014) and Possibili scenari (2017). The last album was followed by Possibili scenari for piano and voice, a piano and voice reinterpretation of Cremonini's hit album.
A passionate fan of Freddie Mercury and Queen, Cremonini will bring to the stadium stage songs such as the ballads Poetica and Nessuno Vuole Essere Robin and the hit Kashmir Kashmir, the three singles from his latest album Possibili Scenari, and classics from his repertoire such as 50 Special, Grey Goose and Buon Viaggio, without renouncing some piano and voice moments to make his performance unique.
The latest work of Cesare Cremonini is La Ragazza del Futuro released in 2022 and certified platinum thanks to songs like Colibrì, Chimica and the homonymous song.

Come and see why you absolutely cannot miss Cremonini, a unique performer in terms of style and talent!

FAQS
The tickets for Cesare Cremonini go onsale on July 8 2022 at 11.

The tour of Cesare Cremonini will stop at:

October 29 – Grana Padano Arena, Mantua
November 1 and 2 – Palazzo dello Sport, Rome
November 7, 8, 10 and 11 – Unipol Arena, Bologna
November 13, 14 and 16 – Mediolanum Forum di Assago (Milan)