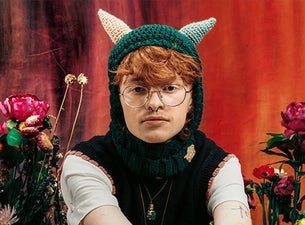 Events
6/5/23

Segrate

Circolo Magnolia

CAVETOWN - UNALTROFESTIVAL

6/6/23

Bologna

Arena Puccini

CAVETOWN
International Events
3 Events
6/30/23

Werchter, Belgium

Festivalpark Werchter

Rock Werchter - Friday

Werchter, Belgium

Festivalpark Werchter

29 June - 2 July | Rock Werchter Combi

9/20/23

Utrecht, Netherlands

TivoliVredenburg

Cavetown
About
Robin Skinner was born into a musical family. His mother is a professional flautist, while his father is Director of Music at the University of Cambridge.

By uploading covers and original songs like "This Is Home" and "Lemon Boy" on his YouTube channel, Cavetown has established a direct and unfiltered relationships with his fans.

Cavetown's YouTube channel has more than a million subscribers. Cartoons, behind the scenes videos, covers of his favorite songs and many other things allow fans to get to know Robin Skinner as a person.

Following the success of his debut album "Lemon Boy" released in January 2018, Cavetown is bringing to Italy his latest studio effort "Sleepyhead", which has been preceded by the lead single "Telescope."

The British twenty-year-old songwriter writes music in his bedroom and his songs talk about love, loss and personal and authentic emotions often difficult to put into words. The ukulele sound is one of Cavetown's distinctive production features.