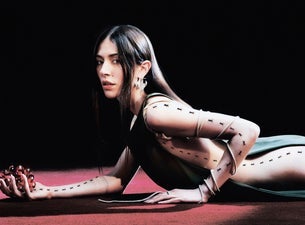 Dance/Electronic
Caroline Polachek Tickets
Events
Sorry... there are currently no upcoming events.
About
Caroline Polachek is an American singer-songwriter, producer and musician, born June 20, 1985 in New York City. She is known for her distinctive voice and her ability to mix different musical styles to create a unique and innovative sound.

Caroline became famous as a member of the musical duo Chairlift, which she founded together with Aaron Pfenning in 2005. The band gained notoriety with the song Bruises in 2008. Over the years, Chairlift has released several successful albums and singles, exploring a sound that ranged from pop to electronic indie.

After the dissolution of Chairlift in 2017, Caroline Polachek embarked on a solo career. In 2019 he released his first studio album, titled Pang, which received critical acclaim for its sound experimentation and demonstrated his ability to create eclectic and adventurous music, ranging between different musical genres and incorporating elements of electronic, pop and avant-pop.

Pang was followed by Desire, I Want To Turn Into You published by Caroline Polacheck in 2023 and preceded by the single Bunny Is A Rider. The album also includes the singles Billions, Sunset, Welcome To My Island and Blood and Butter.