Hip-hop/R&B
Capo Plaza Tickets
Events
11/24/22

Florence

Tuscany Hall

Capo Plaza

11/26/22

Venaria Reale

Teatro della Concordia

Capo Plaza

Venue

Teatro della Concordia

11/27/22

Padua

Gran Teatro GEOX

Capo Plaza
Experience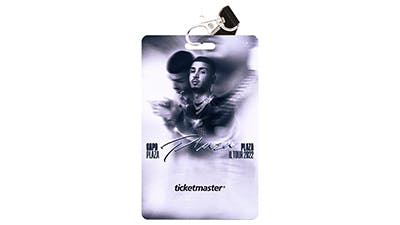 The exclusive Collector Ticket for the tour of Capo Plaza
For all the shows of Capo Plaza Tour 2022 is available the Collector Ticket, a collectible souvenir ticket for real fans.
Find Tickets
About
Plaza – Il Tour 2022
Capo Plaza will bring his new album Plaza on tour all over Italy for several unmissable dates of Plaza – Il Tour nel 2022:
July 9, 2022 - Rimini Beach Arena
July 23, 2022 - Clouds Arena, Paestum
July 30, 2022 - Nafoura, Castellaneta Marina
July 31, 2022 - Sottosopra Fest, Gallipoli
August 2, 2022 - Arena Alpe Adria, Lignano Sabbiadoro
August 9, 2022 - Gate Sardinia, Budoni
August 13, 2022 - Jesolo Beach Festival, Jesolo
August 26, 2022 - Villa Bellini - Sotto il vulcano Fest, Catania
August 31, 2022 - San B Sound, San Benedetto del Tronto
September 2, 2022 - Italian Style Festival, Ortona
November 23, 2022 – Atlantico Live, Roma
November 24, 2022 – Tuscany Hall, Firenze
November 26, 2022 – Teatro della Concordia, Torino
November 27, 2022 – Gran Teatro Geox, Padova
November 29, 2022 – Alcatraz, Capo Plaza live a Milano
Capo Plaza, the stage name of Luca D'Orso, is one of the most important Italian trappers. He debuted in 2013 with the song Sto Giù on YouTube which drew the attention of the trap scene, especially that of Sfera Ebbasta who proposed a collaboration to Capo Plaza.
In 2017, Luca signed a record deal with Ghali's Sto Records and released some singles, such as Allenamento #2, which led Capo Plaza to fame.
In 2018, Capo Plaza released 20, his first official record, which sold more than 100,000 copies reaching the double FIMI's Golden Record. He also got two three-time FIMI's Platinum Records for the hits Forte e Chiaro, Come me, Vabbene, Giù da me, Uno squillo e 20. The album release was followed by his first tour in the main European cities that ended with a sold-out concert at Alcatraz in Milan. Capo Plaza's 20 was also in the top 10 of the bestselling records of 2018.
On January 22 2021 Plaza, the trapper's last record, was released and was preceded by the hit Allenamento #4. The record includes several collaborations with Italian artists, such as Sfera Ebbbasta, and international artists for example Gunna, Lil Tjay and the German rapper Luciano.
You can't miss the Italian Giovane Fuoriclasse!