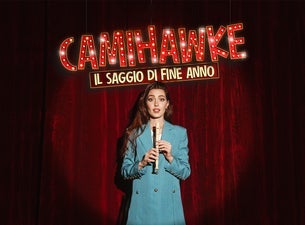 Comedy - Arts & Theater
Camihawke Tickets
Events
3/23/24

Padua

Gran Teatro GEOX

Camihawke - Il saggio di fine anno
About
Camihawke, born Camilla Boniardi, was born in Monza on June 21, 1990 and is a famous Italian influencer and youtuber. Although her dream as a child was to become a doctor, after graduation she decided to attend the Faculty of Law, where she discovered her passion for the world of social networks.

Camihawke began to publish the first funny videos on Facebook and YouTube, soon becoming one of the most influential and followed youtuber in Italy. Over time, Camihawke has seen an increase in the number of followers and fans, turning his hobby into a real job.

In addition to its YouTube channel, Camihawke is also very active on social networks, especially on Instagram, where it has over 1 million followers. Her videos are very simple and funny and tell with great irony the daily misadventures of Camilla.

In 2017 she was one of the protagonists of the television program Pink Different broadcast on Fox Italia and, as of September 2019, she starred alongside Carlo Cracco in a cooking show entitled Nella mia cucina, broadcast on Rai Uno.

In 2021, Camihawke debuted as a writer, publishing her first novel titled For All My Mistakes, which quickly became a huge sales hit, topping the charts.