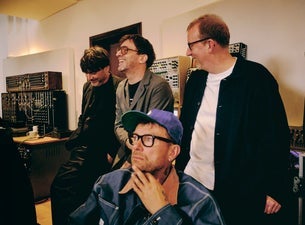 Alternative/Indie Rock
Blur Tickets
Events
Sorry... there are currently no upcoming events.
About
Blur was formed in 1989 by Damon Albarn, Graham Coxon, Alex James and Dave Rowntree and debuted with the successful 1991 album Leisure. After Leisure, Blur continued to revolutionize the sound of English folk music with the second release Modern Life Is Rubbish (1993).

There followed five albums following UK No.1 - with Parklife (1994) and The Great Escape (1995) which helped push the band to popularity in the UK and beyond. Blur was released in 1997, followed by Think Tank (2003), Blur's first album after the temporary departure of founding guitarist Graham Coxon.

Twenty-one years after the release of their debut album, in 2012 the band released the compilation Blur 21: The Box followed by The Magic Whip (2015).

In 2012 the band received a BRIT Award for Outstanding Contribution to Music and released two new songs ahead of the two sold-out shows in Hyde Park, London to celebrate the closing of the Olympic Games.

Having become one of the most successful British bands of the past two decades, Blur have won a total of five BRIT Awards, and have been nominated twice for the Mercury Music Award. In July 2023, the band released eight years later the new album The Ballad of Barren anticipated by the single The Narcissist.