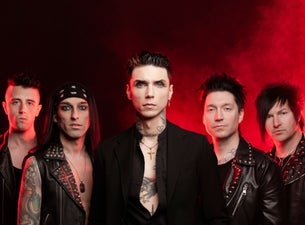 Hard Rock/Metal
Black Veil Brides Tickets
Events
Sorry... there are currently no upcoming events.
About
Black Veil Brides is an American rock band from Hollywood, California. The group was founded in 2006 and has gained popularity thanks to its musical style that combines elements of rock, metal and punk, combined with a distinctive theatrical and visual presence.

The band's original lineup included singer Andy Biersack (also known as Andy Black), guitarists Jinxx and Jake Pitts, bassist Ashley Purdy and drummer Christian "CC" Coma. Over the years, the group has released several successful albums, including We Stitch These Wounds in 2010, Set the World on Fire in 2011, Wretched and Divine: The Story of the Wild Ones in 2013 and Black Veil Brides IV in 2014.

The music of Black Veil Brides often addresses themes of rebellion, authenticity and self-acceptance, which are reflected both in the lyrics of the songs and in the image of the band. They have gained a devoted fan base, known as the "BVB Army", and are known for their high-energy live shows and distinctive clothing, which often includes black dresses, elaborate makeup and flashy hairstyles.

The band has undergone some changes in the lineup over the years, but has continued to churn out new music and maintain a strong following of fans. Their unique combination of musical style and visual aesthetics has made them one of the most recognizable and influential bands in the contemporary rock scene.