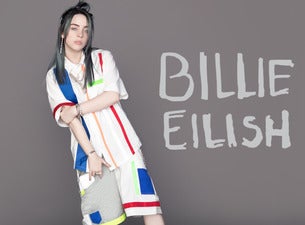 Rock/Pop
Billie Eilish Tickets
Events
Italy
There are no upcoming events in Italy
Don't worry, there are other events available below
About
In compliance with the medical emergency set to prevent COVID-19 from spreading, the Billie Eilish date scheduled on July, 17 2020 at I-Days Milano at MIND – Milano Innovation District (Ex Expo Area) in Milan has been definitively cancelled and will not be rescheduled. For further information, please READ HERE
The 17-year-old Billie Eilish is one of the most interesting songwriters these days. Besides being an international streaming force, Billie Eilish is the voice of her generation as she talks about the youngsters' obsessions, emotions and dark love stories.
Her debut single "Ocean Eyes" went viral first on Soundcloud and then on Spotify in 2016 (over 130 million streams).
Billie Eilish' first EP "Don't Smile At Me" came out in 2017 and was preceded by the single "Bellyache" (over 750 million streams all over the world). "Bellyache" explores the theme of guilt and is written from the point of view of a psychopath who has committed a murder.
In April 2018, Billie Eilish worked with the R&B young talent Khalid on "Lovely", featured on the second season of the Netflix series "13 Reasons Why." "Lovely" is centered on the pressing topic of mental health.
"You Should See Me In A Crown", which is characterized by a more mature and darker sound, preceded Billie Eilish' debut album, "When We All Fall Asleep, Where Do We Go?" The official singles off "When We All Fall Asleep, Where Do We Go?" are "When The Party's Over", "When I Was Older", "Bury A Friend", "Wish You Were Gay" and "Bad Guy." "All the Good Girls Go to Hell" was released as the sixth official single on September, 6 2019.
Billie Eilish writes lyrics and melodies with her brother Finneas O'Connell, who is also a singer and musician.
The So-Cal singer loves rap and hip hop and amongst her influences there are Tyler, the Creator, Earl Sweatshirt, ASAP Rocky and Lana Del Rey.
Billie Eilish performed at Coachella in April 2019. The Coachella 2019 headliners were Childish Gambino, Janelle Monáe, the 1975, Tame Impala, Solange, Ariana Grande and Khalid.
Billie Eilish won 5 Grammys "Album Of The Year", "Best New Artist", "Best Pop Vocal Album", "Record Of The Year" and "Song Of The Year" for "Bad Guy" at the Grammy Awards 2020, becoming the youngest artist to win in all 4 leading categories. On February, 14, "No Time To Die" written by Billie Eilish and her brother Finneas for the James Bond soundtrack came out.