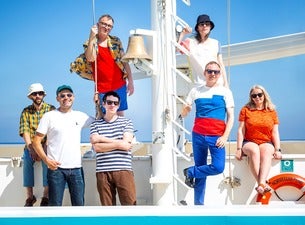 Alternative/Indie Rock
Belle & Sebastian Tickets
Events
1/26/23

Milan

Fabrique

Belle & Sebastian
International Events
4 Events
1/16/23

GÖTEBORG, Sweden

Trädgår'n

Belle & Sebastian

1/17/23

STOCKHOLM, Sweden

Filadelfia Convention Center

Belle & Sebastian

1/18/23

OSLO, Norway

Sentrum Scene

Belle and Sebastian

1/19/23

København V, Denmark

VEGA - Musikkens Hus, Store VEGA

Belle & Sebastian
About
The show of Belle & Sebastian previously scheduled for April 12 2022 at Fabrique in Milan has been rescheduled for January 26 2023 at the same venue. If you have already bought the tickets, these will be valid for the new show.


The Scottish band Belle & Sebastian will be back in Italy for an unmissable show on January 26 2022 at Fabrique in Milan!

The band was born in Glasgow in 1996 and the group members are Stuart Murdoch (voice, guitar e keyboard), Stevie Jackson (guitar and voice) Sarah Martin (violin, voice, guitar and keyboard), Mick Cooke (trumpet, guitar, bass e percussions), Bobby Kildea (guitar and bass), Richard Coldburn (drums and percussions) and Dave McGowan (bass, keyboard and guitar).

The band name is taken from the famous children novel Belle e Sebastien of the French author Cècile Aubry.

The Belle & Sebastian's career begun in 1996 when they released their debut album Tigermilk which became very popular among the students of Glasgow. Between the most important records of Belle & Sebastian we can recall The Boy With The Aran Strap (1998) which was released via the label Matador Records (Cat Power, Queens of The Stone Age, Sonic Youth) and entered the UK best selling album chart, Dear Catastrophe Waitress (2003) nominated for the Mercury Prize in 2004 and The Life Pursuit (2006), certified silver record in the UK.

Don't miss the only Italian show of the iconic Scottish indie pop band!