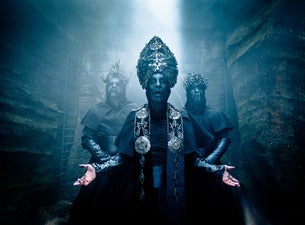 Hard Rock/Metal
Behemoth Tickets
Events
Sorry... there are currently no upcoming events.
About
THESE ARE NOMINATIVE TICKETS

YOU MAY BUY NO MORE THAN 6 TICKETS


Behemoth is a Polish metal band formed in 1991 and currently comprised of Adam "Nergal" Darski (lead vocals, guitar), Zbigniew "Inferno" Promiński (drums) and Tomasz "Orion" Wróblewski (bass, backing vocals). Behemoth is a Hebrew name referring to a monstrous mythological creature.

The founding members Nergal and Baal Ravenlock initially called the band Baphomet, but then changed the name to Behemoth. The Polish group has released 11 studio albums: "Sventevith" (Storming Near the Baltic), "Grom", "Pandemonic Incantations", "Satanica", "Thelema.6", "Zos Kia Cultus", "Demigod", "The Apostasy", "Evangelion", "The Satanist" and "I Loved You at Your Darkest."

In 1999, Behemoth stopped referencing Norwegian black metal on their songs, preferring death metal. On October, 5 2018 the latest Behemoth studio album "I Loved at Your Darkest" came out.

Behemoth is set to open for Slipknot on the "We Are Not Your Kind" World Tour. Behemoth is taking the stage before Slipknot on February, 11 2020 at Mediolanum Forum, in Assago, Milan. Don't miss Slipknot's great comeback tour!