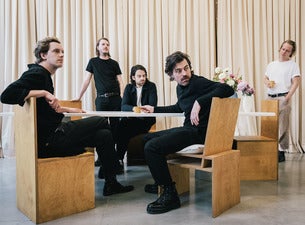 Dance/Electronic
Balthazar Tickets
Events
Italy
There are no upcoming events in Italy
Don't worry, there are other events available below
About
The show of Balthazar previously scheduled on October 25 2021 at Magazzini Generali in Milan and moved to March 14 2022 at the same venue has been rescheduled for May 8 2022 at Fabrique in Milan. If you have already bought the tickets, those will be valid for the new date. For further information, please READ HERE
After releasing their new album Sand, Balthazar are performing in Italy for an unmissable show on May 8 2022 at Fabrique in Milan.
Balthazar's founding members Maarten Devoldere and Jinte Deprez used to busk when they were teenagers. In 2010, Balthazar released their debut album Applause and the official singles were Fifteen Floors, Hunger At The Door, I'll Stay Here and The Boatman. Balthazar then embarked on their first European tour and were DEUS' opening act in the UK and in France.
In 2012, Rats came out: on this album, the band approached pop productions differently. In 2015, Balthazar put out Thin Walls, produced by Ben Hillier (Blur, Depeche Mode, Elbow) and Jason Cox (Massive Attack, Gorillaz) in the Yellow Fish studios in Lewes. This Walls is a very spontaneous album and was recorded while the group was touring.
After their solo projects between 2016 and 2017, Balthazar reunited on Fever, on which the co-frontmen of the Belgian band and Leonard Cohen's fans opted for a fresher and less melancholic sound while experimenting with different genres and sonorities.
Sand marks the comeback of Balthazar, currently comprising Maarten Devoldere, Jinte Deprez, Simon Casier, Michiel Balcaen and Tijs Delbeke, and has been preceded by the singles Losers and On A Roll.
Can you feel this Wrong Vibration? Don't miss it on the Sand Tour 2021!