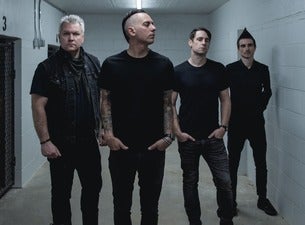 Alternative/Indie Rock
Anti-Flag Tickets
Events
Bellaria – Igea Marina

Parco Pavese

BAY FEST 2022 - PASS

Bellaria – Igea Marina

Parco Pavese

BAY FEST 2022 - PASS + CAMPING

8/14/2022

Bellaria – Igea Marina

Mapo Club

BAY FEST - Pool Party - Anti Flag
International Events
5 Events
About
Anti-Flag, the American band symbol of the punk music scene, will be back in Italy in 2022 for an unmissable show at Bay Fest in Bellaria – Igea Marina.

The band, born in 1988, consists of da Justin Sane (voice and guitar), Chris Head (guitar), Chris Barker (bass and choires) and Pat Thetic (drums). In 1996 Anti-Flag debuted with the album Die For the Government with which they achieved fame in the American punk scene.

Anti-Flag are known for their political commitment and for their activism. The band collaborated with Greenpeace and Amntesty International.

Throughout their career Anti-Flag put out 12 albums from where are taken off the songs Angry, Young and Poor of 2001, Turncoat of 2003, 1 Trillion Dollar$ and This Is The End (For You My Friend) of 2006 and The Bright Lights of America released in 2008.

The latest work of Anti-Flag is the album 17 Song Demo of 2021, the re-edition of a self-produced demo of the band from 1992 including iconic political punk songs.

You can't miss the Italian show of Anti-Flag at Bay Fest, buy immediately the official tickets!