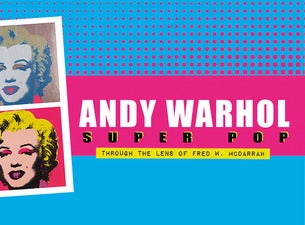 Museums/Exhibits
Andy Warhol Super Pop Tickets
Events
Stupinigi

Palazzina di caccia di Stupinigi

NEXT+: Tre mostre evento, quando vuoi, con uno sconto imperdibile!

Venue

Palazzina di caccia di Stupinigi
About
Andy Warhol Super Pop Through the lens of Fred W. McDarrah, curated by Next Exhibition in collaboration with Ono Arte Contemporanea and the Archive Fred W. McDarrah / MUUS Collection, lands at Palazzo Barolo in Turin in 2022.

The exhibition, dedicated to the life and rich artistic production of Andy Warhol from the explosives 50s and 60s to the 70s in New York, lets you discover the genius, creativity and innovation of the Father of the Pop Art.

Andy Warhol Super Pop is an intimate and curious magnifying glass on one of the iconic artists of the 20th century, who has inspired the new generations of artists, curators, directors, designers and cultural innovators from all over the world and influenced art and the way of thinking in contemporary society.

The exhibition itinerary offers an overview of the concepts and key moments of the Pop Art and presents a unique, exciting and revealing selection of Warhol's works and historical photographs from the archive of photographer Fred W. McDarrah, who has immortalized the Factory founder for over thirty years.

In addition to the most famous icons, including the serigraphs of Marilyn, Mao and the famous Campbell's Soup, at Andy Warhol Super Pop you can admire the unpublished works of the avant-garde Ladies & Gentlemen series, created between 1974 and 1975.

The reconstructions of some of Warhol's most iconic and characteristic environments, the Polaroids (in collaboration with the Nital company) used to take his photographs and the graphics created for the Martini & Rossi company (in collaboration with the Casa Martini Museum) enrich the itinerary of the exhibition.

Lastly, the shots by photographer Anton Perich will take you back to Warhol's New York and to the Maestro's entourage, made of artists such as Keith Haring, Basquiat or Robert Mapplerthorpe.

Enter the eccentric and colorful world of Pop Art America in Andy Warhol Super Pop!